AAC Text Donation Study
Help make AAC faster!
A common complaint from people who use AAC is "it's so slow". One reason for this is that word prediction often fails to provide a user's desired word and therefore doesn't speed up the process of constructing messages.
A team of researchers are looking at ways to improve this through a project called Baton which is an AAC text donation study looking to improve word prediction in AAC systems.  Ace Centre's Will Wade is involved in the project and answered a few questions about Baton.
What are researchers doing about AAC being too slow?
We are working to make more accurate prediction systems. The problem is these prediction systems are often based on text that is not well-matched to the sort of text people who use AAC want to write. For example, different prediction algorithms may be compared based on how well they predict text from news articles or web pages. This mismatch can lead to less useful word prediction for the end user. We need to know what people who use AAC write and say to make AAC better.
What can an AAC user do to help?
If they use Grid 3, Communicator 5, Dasher, AAC Speech Assistant, Speak for Yourself or Predictable they can donate a few phrases from their device speech history. They can choose exactly what to donate and how much. They might think about donating phrases they commonly use or ones they think their AAC device should be good at but isn't.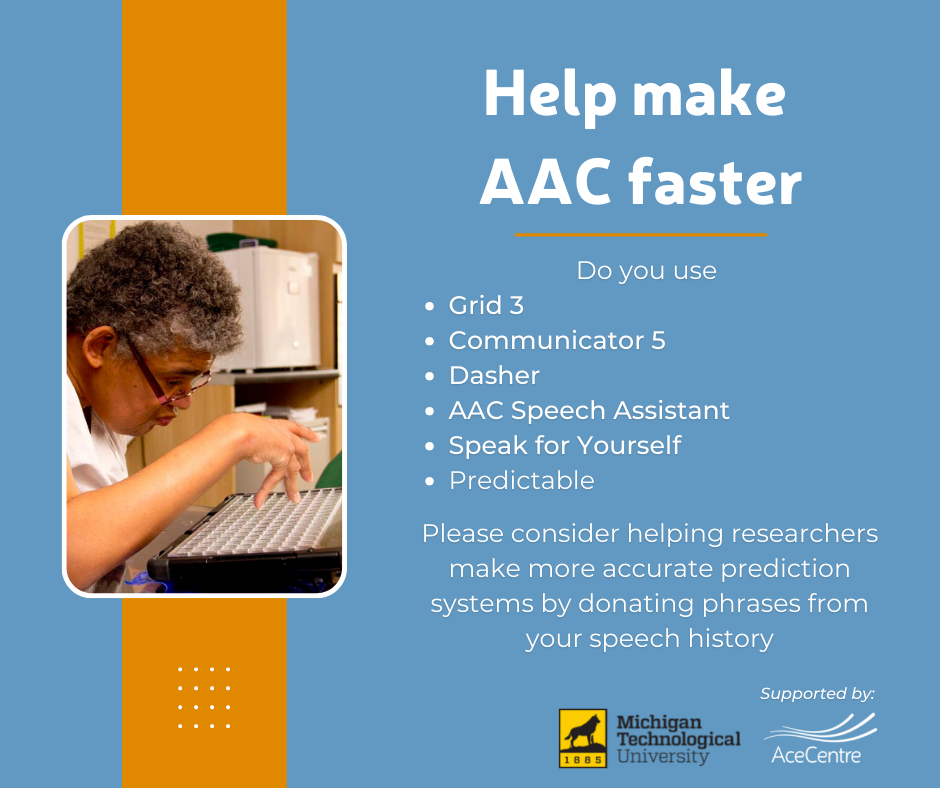 What happens if a person gets involved with Baton?
They will need to run a piece of software on their computer each time they want to donate. Their messages are then displayed, and they choose which ones to donate to an open-source database which is free for researchers to use.
Is it safe to get involved with Baton?
Personal information will not be published, and data is transmitted and stored securely. The software will flag phrases from the message history with potential personal information and then allow the user full control of which phrases they donate and how much. Phrases will be reviewed by a small group of professionals, prior to them becoming part of the database, ensuring nothing in the messages can identify the person who donated them.
How can an AAC user get involved?
They can contact the lead researcher, Dr Keith Vertanen from the Department of Computer Science at Michigan Technological University. Dr Vertanen is an expert on text input by people with diverse abilities.  He will make sure they are comfortable with the process and answer any questions. He will then direct them how to install the software. He can be emailed at [email protected]
For more information on Baton and to read frequently asked questions click on this link to visit aactext.org/donate/
If you are supporting AAC users we would appreciate your help in spreading the word about this project. Click to download a flyer about the Baton project here Baton project leaflet 11.22
Watch this session introducing the Baton project and a Q&A with Dr Vertanen and Will Wade