We're excited to reintroduce Makaton training to the Ace Centre Learning portfolio. It's been a while since we've offered this popular course and we've made some changes by bringing it to our online platform meaning anyone can join from anywhere!
We caught up with Rachel and May, our Ace Centre colleagues and experienced Regional Makaton Trainers who will be delivering this practical introduction, to discuss Makaton and why it's an important communication strategy to add to your toolkit.
Why is it important that Ace Centre Learning is offering a Makaton course? It's all about Total Communication! We like thinking outside the box at Ace Centre Learning and AAC is not just about electronic communication. The best way to support the people we work with is by growing your tool kit of skills so that you can meet the needs of different individuals.
Who uses Makaton? A wide range of people of all ages use Makaton, it's used a lot within settings for people who have a learning disability such as schools and day or residential services. But it all starts with the people around the individual learning to use it.
Who benefits from Makaton? It's beneficial for so many people of all ages and ability levels! From the communication partners perspective using Makaton will help them to slow down their interactions and highlight important words. This is hugely beneficial to the people they are interacting who might struggle with communication.
How is Makaton helpful to struggling communicators? It helps in lots of ways. Makaton can support people to understand more of the language they are hearing. It can also support people to learn to express themselves more clearly. It is beneficial for building social interaction and turn taking skills.
What is your history with Makaton? We're both Ace Centre's Regional Makaton Trainers.  May (Ebbage-Taylor) is a teacher, with 15 years' experience in schools using Makaton with her students with learning and communication difficulties to support communication, teaching and learning.  And I'm Rachel (Stevens) a Speech and Language Therapist, who has supported adults with complex learning and sensory needs in a college setting.
This is Level 1 … are there more levels? What are the steps to become proficient in Makaton? There are 4 levels. The first step is arguably the biggest, just getting started can feel daunting but we are here to make sure that you become confident in your signing, geared up to take your new skills back to your setting and of course have fun while we do it!
For more information or to sign up to the Makaton Level 1 course, delivered across four sessions starting the 21st of February visit the course page here.  To learn more about what Makaton is visit The Makaton Charity here.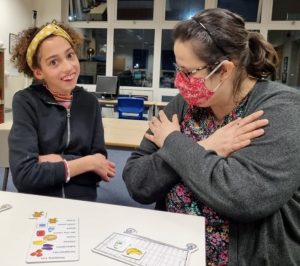 May and Louise signing "love" while playing a board game.