Look2Talk has had an update!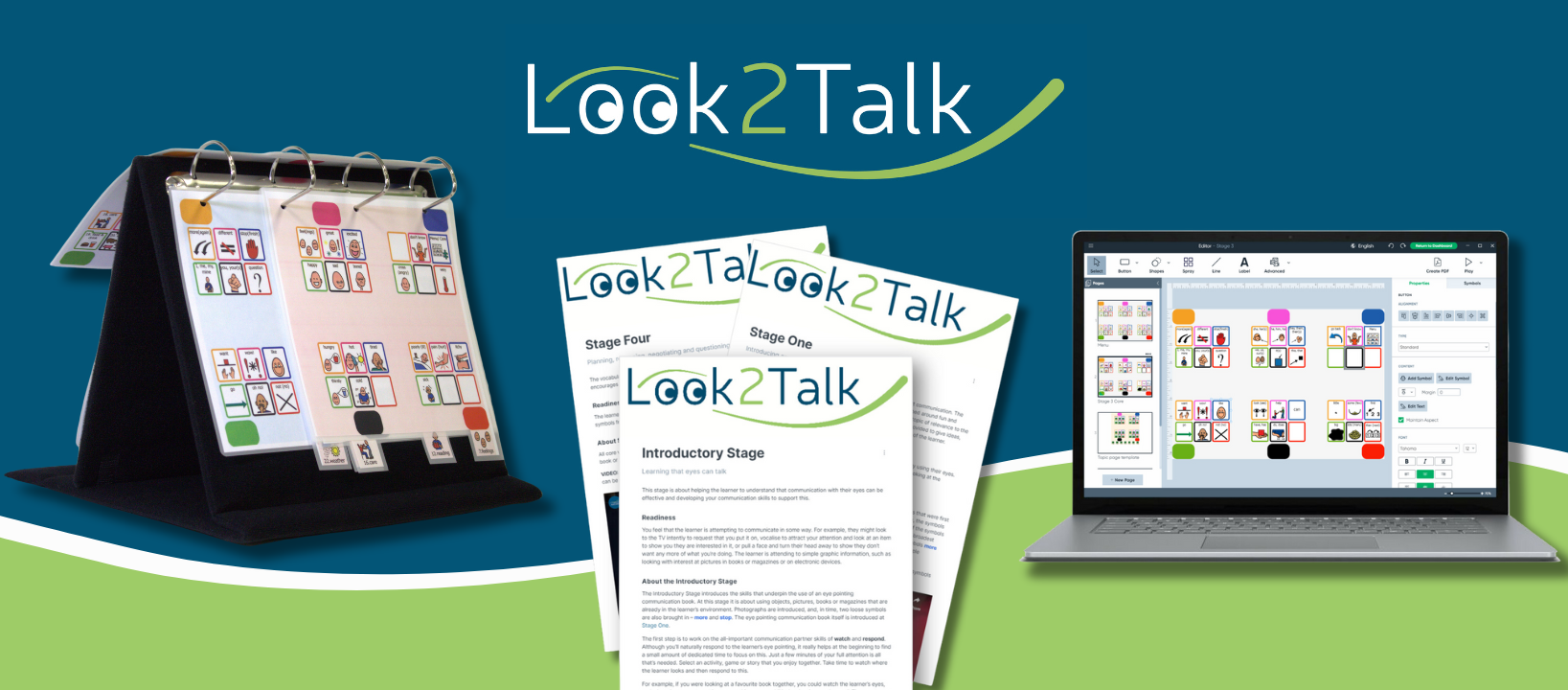 A much-loved approach to developing an eye pointing communication book which can be followed as closely or flexibly as suits the communication partner and learner. At the heart of the Look2Talk package is an award-winning guide for carers, parents and professionals that was based on the work of the Look2Talk project, a two-year venture run by Clare Latham and Katharine Buckley at Ace Centre from 2006-2008.
The process of updating the Look2Talk package began in 2017 after Ace Centre released a new edition of the popular guide to Developing and Using a Communication Book (DUCB). Look2Talk complements the DUCB as an option for those who cannot use a finger to point to a symbol and therefore and therefore needed to reflect changes made to the suggested core vocabulary at each stage and the further encouragement of navigation.
Whilst making revisions to the Look2Talk guidebook was top of the agenda for this update the entire package has had some changes.
The Look2Talk guidebook is now available as a free eBook. As a charity this has given Ace Centre an accessible and sustainable approach to offering and updating information we know will benefit many communication partners and the learners they support.
The eBook format allows an interactive guidebook experience with embedded instructional and illustrative videos throughout the text making for a more streamlined and multimodal experience.
The Demonstration Pages have been updated to include vocabulary and topics that are relevant to today and to learners across all age groups.
Instant, free and digital access to the Guidebook and Demonstration Pages means there are no barriers to clinicians considering and sharing the Look2Talk experience with potential candidates and their team.
An updated design of the communication book Templates feature improved design and visual accessibility as well as colours that are less printer ink intensive.
Outsourcing the Communication Easel, which displays the eye pointing communication book, to Ability World gives the benefit of this UK based company's many years of experience and expertise in manufacturing and supplying this kind of product.
Look2Talk training at an Introductory and Developing level has been developed and successfully piloted by Ace Centre Learning with future dates to be released soon.
This is not an exhaustive list of the changes in this new edition of Look2Talk. However, it reflects the main highlights which we feel will result in more learners be given the chance to benefit from the ethos Clare Latham instilled when first developing this approach: that all learners should be given the opportunity to share interesting and rich ideas whilst communicating with symbols; that learners should be given the ability to take control of their world through communication; and that the role the communication partners plays is paramount to success.
Click here to visit the Look2Talk page and explore all its elements.