We've had a long history of working with schools and other organisations, helping them to meet the AT and AAC needs of the people they support through Service Level Agreements. Over the past decade Ace Centre has become a Specialised AAC Service (hub) which has taken much of our time and focus. However, today we're speaking with Senior AAC Consultant Katy Leckenby about how things are changing,  including the name ….
What is Ace Centre's history with Service Level Agreements? 
Ace Centre historically offered "Service Level Agreements" (SLAs) working together with schools to identify Assistive Technology (AT) and Augmentative and Assistive Communication (AAC) that would support pupils with communication and learning. Due to establishing and delivering the Specialised AAC Services, Ace Centre had to scale back this work. However, we've been expanding our team and are excited to relaunch this service which is now called Partnerships
What is the difference between Partnerships and SLAs? 
SLAs focused on assessing the needs of individuals by making recommendations around AT and AAC specific to their needs. Our focus with Ace Centre Partnerships is on whole school support and leaving a legacy of good practice by providing training and mentoring around the implementation of AT and AAC in addition to assessing individuals' needs.
Who can benefit from a Partnership?
Previously our main focus was on Education settings, but we now provide support in Health and Social Care settings too. We can work with any establishment or service who supports people who would benefit from using AT and / or AAC.
In very general terms what happens during a Partnership? 
It's all about collaboration and working in partnership with leaders and practitioners to provide support, coaching and mentoring in the use of AT and AAC. We like to work alongside staff in their environment to help them to identify when individuals need AT, including AAC. Our multi-disciplinary team works collaboratively with the organisation to develop and implement a plan to upskill staff and help them build a pathway for assessing and meeting the needs of the people they support.
What is your favourite part of being involved in Partnerships? 
For me, it's being back in the classrooms of a Partnership school. I love seeing how students respond when they realise the independence AT and/ or AAC gives them. I love working with school staff in a realistic way, being with them in their environment and coaching them to recognise what solution is right for their students. It's never a one size fits all and it's great to have the opportunity to problem solve with school teams helping them meet the AT and AAC needs of their student body.
To learn more about how our Partnerships service can support your organisation visit this webpage or start a conversation with us at [email protected]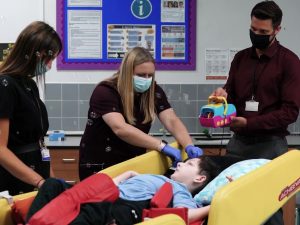 Katy working alongside two teachers at New Bridge School to support a student with switch access.