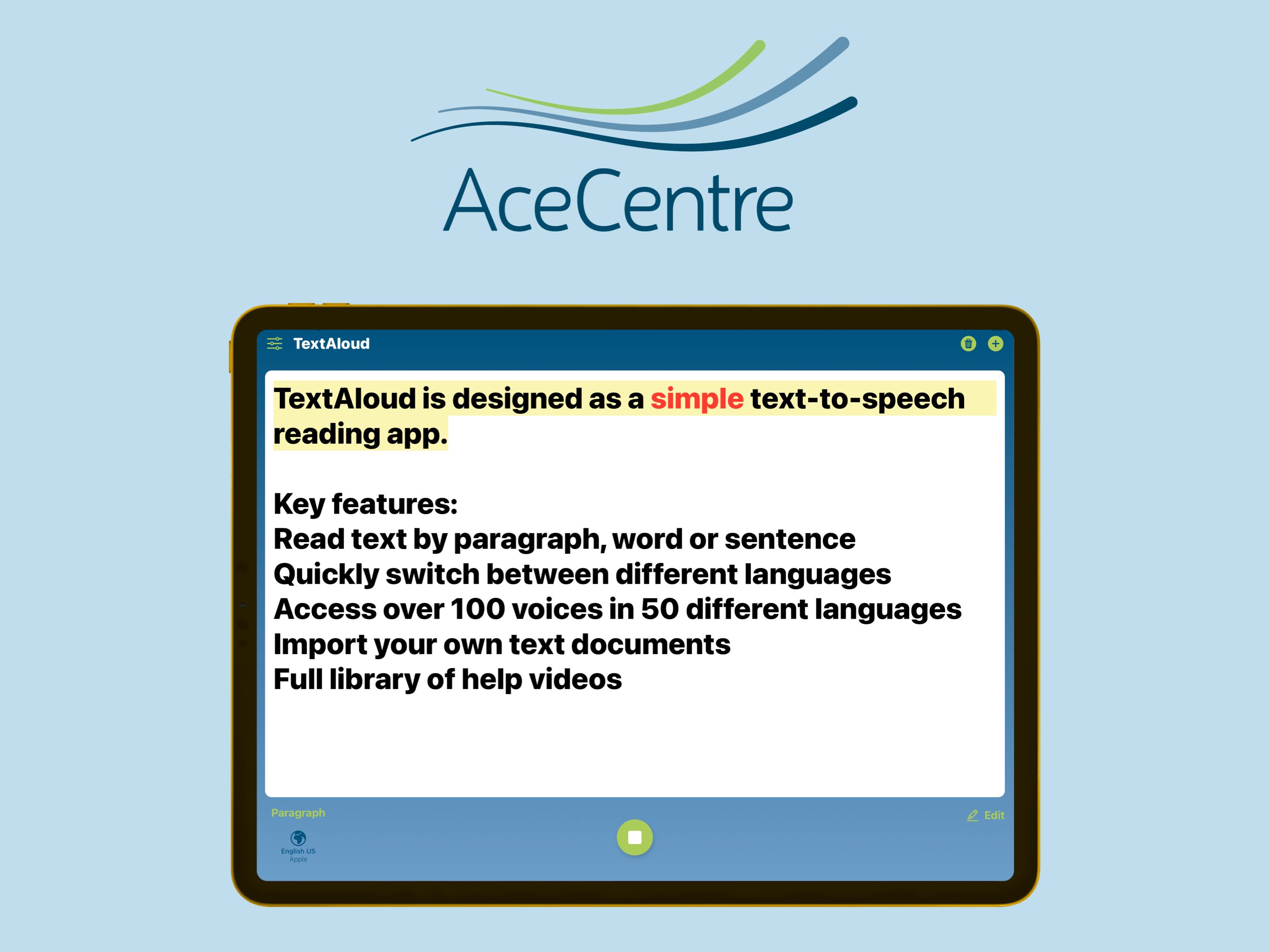 TextAloud is a brand new iOS App developed by Ace Centre! It is a text-to-speech (TTS) app which reads any text you enter.
Download the app by clicking here or the button below.

Who is TextAloud for?
We created TextAloud with a use case of supporting people who give presentations, regardless of whether they typically use AAC or not. It allows you to play your chosen text one word, sentence or paragraph at a time allowing you to leave natural pauses in your presentation so you feel more connected to your audience.
TextAloud supports writing text directly within the app but, importantly,  you can also choose to write your speech in your favourite software and import it into TextAloud once you are done.
TextAloud also showcases the huge range of voices and languages that currently exist in the cloud that currently cannot be accessed via other AAC and TTS systems. TextAloud uses both the Apple System voices as well as Microsoft's online voices. In total this gives you over 400 voices options across 141 languages. The list of languages supported by Microsoft is rapidly expanding which TextAloud will automatically be able to access as it grows. This will allows more people then ever before to access TTS in their chosen language!
Getting started with TextAloud
We have created a video series exploring the different settings and options that are available within TextAloud.
Alternatives
There is a wide range of other solutions in this space, all of which make a different set of compromises. In the past we have supported people to use WordTalk, which is a plugin for Word providing TTS features. However, it has become difficult to use this due to compatibility issues and which is making it a struggle to support.
There are a variety off apps that are designed to read documents aloud for people who are partially sighted which can be repurposed for giving presentations. There are also solutions across different platforms such as Wrise, which is only available on mac.
Check out our documentation for a full list of the alternatives.